vfridge in the classroom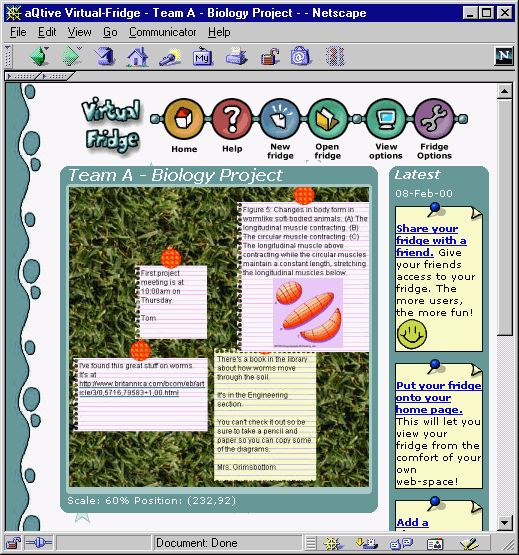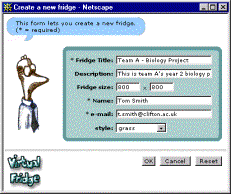 Use vfridge to organise small group projects
Easy fridge administration.
The group leader can easily create a vfridge for their project by following some simple instructions. They can also arrange for notification e-mails to be sent to team members when new messages are created.
Fridges can be shared.
The owners of the fridge can share it with their friends, giving them different access rights. For example, the teacher requires complete control, team members need to be able to add new messages, and other teams shouldn?t be allowed to cheat. As vfridge uses the Internet there?s nothing to stop interaction between different year-groups, schools, or even countries.
You can look at the fridge from almost anywhere.
Each member can embed the vfridge into his or her own web-page for quick access. The teacher could also put the fridge onto their web-page. Anyone can modify the way the fridge looks to them.
Different kinds of messages.
Good Internet references relevant to the project and other useful files and images could be placed on the fridge by teachers or other students.
Fun and simple in appearance, yet a powerful conversational tool.
Visiting the fridge would be fun. This improves communication between the group members and creates a conversational environment that benefits the learning process.
vfridge also works well in areas such as NetPals and Projects; making education more fun and more efficient. Sharing a fridge with friends in Mongolia, or providing a personalised interface to your team's forthcoming football matches, vfridge is an instinctive way of communicating.
To find out more about vfridge and how it can help you, contact us at enquiries@vfridge.com.